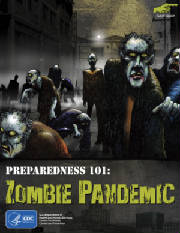 In Safari, go to the following website to read the Zombie Novella. Then answer the following questions:
http://www.cdc.gov/phpr/zombies_novella.htm
Or click on the picture to begin reading the Zombie Novella.
In Kidblog, set up a new post Titled "Zombie Apocalypse Part I"
As you are reading, answer the following questions:
1. Describe the symptoms of the virus.
2. What are the initial recommendations of the CDC?
3. Where does the CDC direct people to go for information on the virus outbreak?
4. What is the first thing Todd and Max start to put together to prepare?
5.The CDC identified the source of the Zombie virus Z5N1, as a highly mutated form of what common virus?
6.How did this mutant Zombie virus affect humans?
7. Once they have an emergency kit put together, what do Todd, Max, and Julie plan to do?

In Safari, click on the picture above or go to the following website to read the Zombie Blog.
Working alone or with a partner you must develop:
1. An emergency kit - items you need to survive. You have to consider in a Zombie apocalypse, what happens to the cities? The farmers? Food sources? Supplies? Gas and electric?
2. An escape plan - how will you get to a safe place? Keep in mind the availability of and competition for resources. Where are the food supplies? medical supplies? Weapons? Energy? Safe and protected areas?
Once you complete both your emergency kit and escape plan you will present your solutions to the class.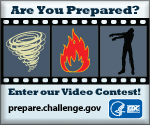 Before moving to Part III, you need to do a summary of what you learned from Parts I & II. Copy and answer the following questions in a new post on kidblog titled, "Summary Parts I and II"
Think about it... Why do you suppose the Center for Disease Control (CDC), a government agency, would develop a graphic novel about Zombies? Why would the CDC have a blog that gives you guidance on what to put in a survival kit and an emergence escape plan?
Hint: Go back to the Zombie Blog link in Part II and review the first paragraph and the paragraph titled, "Better Safe Than Sorry"



Question 1 - Why would the CDC have a Zombie Blog that gives you guidance on what to put in a survival kit and an emergency escape plan? Include a quote from the blog that supports your answer.
Think about it... What do you suppose would happen to the population of a city during a zombie apocalypse? Farmers would stop growing food; No food would be shipped to the cities - no truckers; Power plants would shut down - no electricity so no gas no refrigeration no heating no air conditioning.
Question 2 - What would happen to the amount and type of food available to people (non-zombie) left in the city?
Question 3 - Do you think it would be better for the people remaining to work closer together in groups to share resources (like food) or individually? Explain your answer.
Question 4. What happens if there are more people and not enough food for all of them?
Analyze and Interpret Data Relating to the Spread of the Zombie Apocalypse
Complete the Population Growth Data Tables and answer the questions concerning Exponential Growth Rate of Populations.